by Rachel McCullough
We are excited to announce a new tool, the Institution Profile Wizard, now available on Scopus.
The Institution Profile Wizard allows institutions to modify their affiliation profiles and correct their organizational hierarchies to ensure the correct set of affiliation profiles are grouped together and displayed on Scopus.
As Scopus institutional publication data is included in various ranking methodologies (e.g. Times Higher Education World University Rankings, QS World University Rankings), this tool allows for greater accuracy when reporting institutional data. Scopus publication and citation data also powers SciVal.
Please note that in order to access the Institution Profile Wizard, users (no more than three per institution) will have to provide a signed authorization letter from the institution (the letter will be provided upon submitting this form).
An authorized Institution Profile Wizard user should have:
Familiarity with Scopus

Awareness of the institution's organizational hierarchy

Knowledge of all campus & satellite locations and their names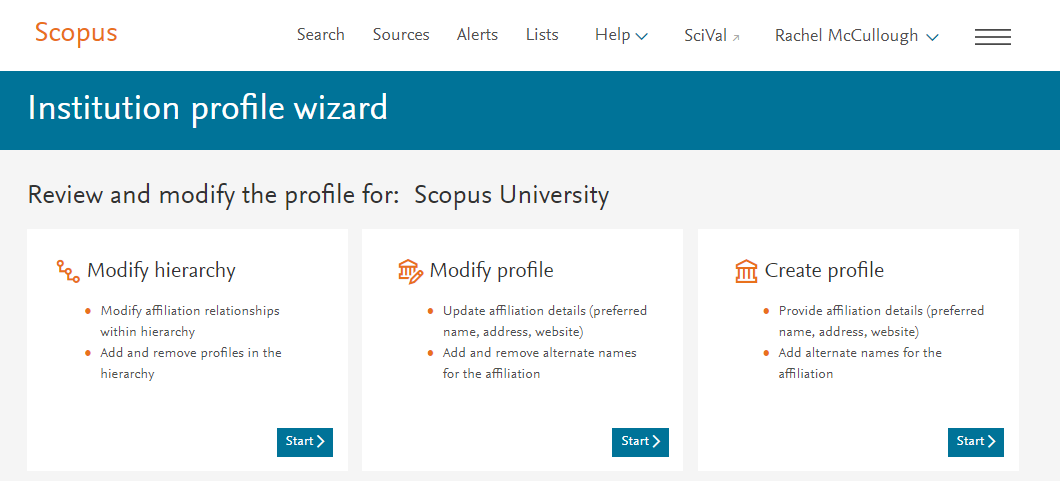 Once approved, Institution Profile Wizard users are able:
Review/Update institutional hierarchy

Remove and add child institutions
Update preferred name and address details

Add addresses for multiple locations or in different languages

View, remove and add alternate names
Request the creation of a new profile if one does not exist in Scopus